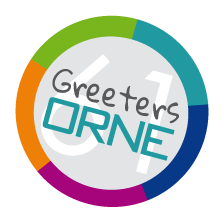 Legal

notices

The site www.greeters-orne-normandie.com is online in its first version since May 2014, it is the property of the Tourisme 61 – Conseil départemental de l'Orne - Hôtel du Département - 27, boulevard de Strasbourg - CS 30528 - 61002 ALENÇON
LEGAL INFORMATION
Publication director: Vincent GESLAIN, Director

Design and construction of the website: Agence Agnès Thomas
PROPERTY AND RIGHTS
The photographs, text, slogans, drawings, images, logos, cartographies, animated or non sequences as well as all other works integrated into the site are the property of Conseil départemental de l'Orne or third parties that have authorized the Conseil départemental de l'Orne to use them.

All duplications of this Website and any or all of its contents in any form using any means are only permitted for those preparing their visit to the Orne, precluding advertising and/or commercial and/or information purposes and/or provided it conforms with article L122-5 of the French Intellectual Property code, without prior authorization from Conseil départemental de l'Orne.
PHOTO CREDITS
None of the photographs present on www.greeters-orne-normandie.com are free from copyright.  All use and duplications are strictly forbidden.  Articles L111 and L112 of the French code of Intellectual property. Orne Tourist Board – Orne District Council.
Dentelle d'Alençon©B.Desmettre
Haras du Pin©D.Butaeye
©puckillustrations - stock.adobe.com
©Ainoa - stock.adobe.com
WEB LINKS
If you wish to set in place a web link to the www.greeters-orne-normandie.com site previous written authorization from Conseil départemental de l'Orne's "Tourisme 61" team is required.  Therefore if you wish to set in place a web link to our site, you should contact the web master. The Conseil départemental de l'Orne cannot be held responsible for the sites that are made available via a web link from the site www.greeters-orne-normandie.com and cannot be held responsible for the contents, products, services etc. available on these sites or from these sites.
LIMITED RESPONSIBILITY
Use of this site is at the users own risk.  Conseil départemental de l'Orne, their partners and sub-contractors cannot be held responsible for any direct or indirect damage, notably material loss, loss of data or programmes, financial loss that occur from the access or use of this site or all sites that are linked.  The contents of the site are presented without any guarantees of any kind.
The access to products and services presented on the site can be subject to restrictions.  You should therefore make sure that the law in the Country that you are in when connecting to the site allows you access to our site.
WARNING
This website has been created using the information and offers provided by the tourism professionals featured on it, and is not contractually binding in any way. The Conseil départemental de l'Orne's "Tourisme 61" team is not liable for any unintentional errors or omissions that may occur despite the editorial team's best efforts and careful checks.

In addition, the Conseil départemental de l'Orne's "Tourisme 61" team cannot be held responsible for the actual provision of the services detailed on this website or in any online document published thereon.
GENERAL TERMS & CONDITIONS OF USE
The website www.greeters-orne-normandie.com is a member organisation of Fédération France Greeters.

The data collected when a Greeter registers on www.greeters-orne-normandie.com is collected and processed by the Conseil départemental de l'Orne's "Tourisme 61" team and its partner the Tourist Office, with the exclusive aim of proposing outings to visitors.

The Greeter has the right to request access to his or her personal data, to rectify it or to have it erased. Requests must be sent by email to: tourisme61@orne.fr

All data collected to establish contact between visitors and Greeters is processed by Fédération France Greeters and member organisations in compliance with their data privacy policy, which can be consulted online at the following address: https://greeters.fr/wp-content/uploads/2018/12/CGU-ConfidentialiteI%CC%8....
This policy is also set out below :
"Greeters Data Privacy Policy
The organizations Greeters Members of the French Greeters Federation, adhere to the Charter Greeters International defined by International Greeter Association and have the right to use the term "Greeters" which is protected and owned by the Federation France Greeters. Any other organization in France that would claim Greeters, without being a member of the Federation, cannot claim the application of the commitments of this document or even to refer to the term Greeters / Greeter. They cannot either, use documents or pages of sites of the members of the Federation.
Getting in touch with visitors- Greeter
In order to benefit from a meeting with a Greeter, each visitor or group of visitors fulfills a standard online form adapted to each network member of France Greeters.
Each site can either :
● Simply propose a registration of the application and then make proposals for a stroll.
● Leave the floor to the Greeters of the concerned city that individually present their stroll. The visitor then chooses his Greeter and registers for his Greet.
● The site describes all the walks available in the city concerned, the visitor registers for his walk choice and receives a proposal for a Greeter available on the requested date that offers a walk on the selected stroll theme.
In any case the visitor will specify the composition of the group (no more than 6 persons), his interests, what he wishes to discover during his greeter encounter. He will also have to give his details, the dates desired for the ride and the language of exchange during the meeting. All this will allow us to find a Greeter corresponding to your initial selection, or the most appropriate Greeter to inform about the subjects corresponding to your request.
We organize from there, the linking visitor – Greeter. Once in contact, you are invited to contact your Greeter to prepare, modify, refine your meeting.
All these information flows are managed by email controlled by our system of management of walks Greeters. A visitor without a mail box, unfortunately cannot access the services offered by the Greeters. It's a matter of low financial revenue to consider a telephone service for example. As a reminder: The Greeters are volunteers.
Use of tracers (cookies) on the Federation site​.
Cookies are small text files placed on your device in order to personalize your user experience when you use our services. ​The cookies we emit on the website of France Greeters are used to recognize the user's terminal when it connects to :
● Optimize the presentation of our Sites to the display preferences of your terminal (display resolution, operating system used, etc.),
● Establish Statistics and volumes of attendance and use of our Sites, We do not use Advertising plotters, audience measurement or personal data. The fact, for you, to continue to use the site of France Greeters, is equivalent to your formal acceptance of the use of cookies on our site.
Data protection policy Personal
The purpose of this personal data policy is to clearly inform you about how your data is used by the Federation France Greeters And its members, on the security measures we implement to ensure the integrity and confidentiality of your data and the rights you have to control the use of your data.

In the context of the development of our Sites and the implementation of new regulatory standards, we can change this policy on personal data. We invite you to read it regularly.
Who are we ?
All the personal data we collect and deal with are managed by the French Greeters Federation, as the manager of treatment and by the Members of the French Federation Greeters, in terms of management of walks. Within our federation, the respect and implementation of the applicable provisions for the protection of Personal data is followed by our data protection officer.
What personal data do we keep and treat ?
Personal data is information that allows you to identify yourself, be it directly or indirectly. It is : your name, address, telephone number and email address but also the IP address of your computer or the information related to your browsing on our Site.
The Greeters will never ask you to provide so-called sensitive personal information, such as information about your health, your political ideals, your religious beliefs, your criminal record, your sexual orientation, your sex life, your comportement or your genetic information. We thank you for not providing this kind of information during your Greeters meetings.
The personal data we are dealing with are directly related to a request for a ride on your part. We do not manage visitor account, in which your personal data, would be kept. Every request for a Greet, on our Data Base, gathers all information collected on different occasions and related to this request, its organisation, its realization and its follow-up. Personal information about the Greeters are also kept and managed in our data base.
We collect your data directly when you :
● Go to the website of the Federation France Greeters
● Make a request on one of our french greeters sites
● Accept a stroll proposal from one of our Greeters
● Make an assessment of our Greeters service. You must give us your prior agreement to report on our Greeters sites, and in any case, only your first name, city and country of provenance will be mentioned, if we publish your evaluation
● but as well, when a volunteer registers to become Greeter.
Your personal data is :
● Kept In our data base for a period of 13mois, which we think is necessary to ensure a follow up of our meeting Greeters. Then your name, Email, phone disappear from our database by being anonymized, the rest of your data become then anonymous without any direct relationship with any of our visitors.
● For the Greeters, the transition to "disabled" status in our bases, after the resignation of a Greeter Volunteer, is accompanied immediately by anonymization of his name, pre-Name, address, email and Telephones(s).
● communicated to the sole Greeter which you accepted the proposal for a ride. As long as you have not accepted a ride, your personal data is not visible from our Greeters. As the coordinates of the Greeter who makes you a proposal are not, either, visible to you.
● Used for the purpose of mailings controlled by the organizations of Greeters. We promise not to sell your data to third parties. This action requires your acknowledment and is requested on each request for a ride. This possibility of mailing ends with the retention period of 13 months personal data. Finally, the right of modification allows you at any time to return to your previous choice.
● Used in the mails sent to you to prepare your trip and collect your evaluation. It's our standard way of communicating with you. The flow is controlled and managed by a walking manager, who has committed to a strict confidentiality on your data. Visitors are not able to escape and must agree to receive them.
● are subject to your decision to intervene at any Time: Right to digital forgetfulness, access and modification of your data.
● Your Greeter, the one who welcomed you in a Greet, is committed not to communicate your personal details and the particulars of the Greet made together.
Traceability of our treatments
Each request for a recorded ride immediately receives an acknowledgement email, with a unique file number that will be carried over to all transactions relating to the application. The same traceability also exists for each of our Greeters And over the last three months. The management of application assignments, proposals from Greeters And Visitor responses are processed in real time and immediately generates confirmation e-mails.
What are your rights to protect your personal data ?
All mails received to manage your application, have a link that allows you to to cancel your request and our corresponding treatments immediately.
You also have the right to request access to your personal data, rectification or deletion. Make your requests by email to the following address: ​contact.dataprotection@greeters.fr​ .
Don't forget to give us the reference number of your original application, your name and the city Greeter Visited.
Our Greeters have direct access to their individual file and can, at any time consult and modify their personal data. They can also give and update their availability downtime.
In the event you consider that the use of your personal data by the Federation France Greeters, violates the rules of protection of your personal data, please tell us and you can also submit a complaint to the CNIL.
How are your personal data protected ?
The French Federation Greeters Implements all industry standard practices and security procedures to prevent any violation of your personal data.

All the information you send us is stored on Secure servers at our technical service providers

Where data transmission is necessary and authorized, the Federation shall ensure that these third parties have sufficient guarantees to ensure an appropriate level of protection.

In accordance with the Data protection regulations in the event of a violation, the Federation undertakes to communicate this violation to the competent supervisory authority, and where required, to the persons concerned.
Confidentiality at our service providers
Our sites access follow-up by Google Analytics
The software for analyzing access to our pages on the Internet: Google Analytics, is used by the French Federation Greeters For statistical purposes. Google Analytics Keeps the IP addresses of Internet users coming to our sites. These addresses are Anonymized so as not to be able to trace back to each individual who accessed and make this operation confidential. The retention time of the information is aligned with our 13 months retention of your personal data.
Organization of mailings
Our mailings are managed by Mailchimp and give you access, to your unsubscribing if you wish. In addition, your right to change may also relate to your agreement regarding the use of your email for Greeters Mailings.

The policy of Mailchimp in terms of confidentiality of personal data is consistent with the regulations and in line with our approach. Mailchimp, however, keep the responsibility for the confidentiality of the data and the treatments of mailings.
Management of donations on Paypal
We offer the opportunity to our visitors to give us a donation in appreciation of the time spent with them by our volunteers. These donations are paid to Greeters organizations to help their financial management. We use the services of Paypal to ensure these payments and you must accept their conditions on Personal data management. The policy of Paypal Confidentiality of personal data is in accordance with the regulations and in line with our approach. Paypal keep, however, responsibility for the confidentiality of the data and its treatment.
Non-Compliance Procedures of the Federation concerning the management of requests for walks
If an organization of Greeters with whom you are in contact through the platform of the Federation France Greeters, was not to use the tools and protocols made available or not to use the booking management on JEF, The Federation could not be held responsible for the consequences in particular on the processing of your personal data.
How to contact us ?
​If you have any questions regarding the use of your personal data, we invite you to read this policy and, if you need further information, contact our data protection officer by Email: ​contact.dataprotection@greeters.fr
Done in Paris by the French Federation Greeters, May 25, 2018."